SPRING

GROUP CLASS SCHEDULE
Each class includes a delicious meal and several pages of info & recipes!



$45 per person, OR see coupons at bottom of this page
PLEASE RSVP at least 3 days ahead for address
 

at Courtney's kitchen in Los Osos, CA
text or call (805) 547-9073  OR  email: courtney@cookwell.org
Please Pre-Pay to hold your seat..

send a check OR log in to your PayPal acct, and send your payment to:

courtney@cookwell.org
 

THANK YOU!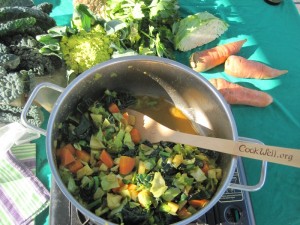 Cooking & Baking, Gluten AND Sugar Free!
Saturday, April 14, 10AM – 12noon



This class will give you everything you'll need to know to start cooking and baking with the nutrient-dense, low-glycemic, gluten-free, whole grains such as millet and amaranth. You'll learn how to sprout and simmer these kinds of grains for savory dishes, as well as how to culture these kinds of grains to make astounding breads and baked desserts which can be made totally sugar-free as well!

We'll talk about strategies for gradually eating lower glycemic in your diet as preventative medicine for the top ten most common diseases of modern people. You'll also learn how to make coffee way healthier!

This class includes sugar & gluten free recipes for: Positively Perfect Brown Rice, Sprouted & Simmered Millet and Amaranth, Sweet Cultured Coriander Corn Bread, Almond-Nutmeg Amaranth Cookies, Holiday Ginger-Spice Cake, Heavenly Chocolate-Coconut Cake, Lemon-Lavender Poppy Seed Cake, Buckwheat & Brown Rice Flour Cookies, Apple Pie Delight, and Carob-Coconut Cloud.
Together we'll enjoy these sugar & gluten free desserts:
ginger-pecan-pumpkin bread


carob-coconut cloud

apple pie delight (tastes like apple pie with a raspberry drizzle!)
How To CULTURE Your Favorite Veggies & Water Kefir!

Saturday, April 28, 10AM – 12noon



You'll learn how to culture your favorite vegetables into body-beneficial, probiotic foods: sauerkraut (including flavored krauts with garlic and herbs, or carrot and fennel, etc), a spicy kimchee, or beet kvaas! These ferments are a wonderfully inexpensive way to supplement those important probiotics! You'll also learn how to make a super-easy, quickly fermenting drink called water kefir, which has 30 different strains of beneficial yeasts AND bacteria, and is slightly sweet & wonderfully effervescent!
Cultured, probiotoic foods help us better digest & assimilate nutrients, keep bad bacteria & yeasts in check, greatly enhance our immune function, produce vitamin B12, contribute to beautiful skin, and balance brain chemistry to improve our moods. Beet Kvaas is a mineral supplement drink and amazing vitality tonic from the Russian tradition. Not only is beet kvaas probiotic, it's a liver / gallbladder cleanser, helps with disturbed cellular function, helps thin the bile and detox the body, keeps the bowels moving regularly, and builds healthy blood. You can add fresh ginger root kvaas for flavor and for digestive, circulation, and heart-healing properties, and/or fresh turmeric root for anti-inflammatory and anti-cancer properties! Wow! Why doesn't everyone have this stuff in their fridge?
In this class everyone will get:
kimchee, sauerkraut & beet kvaas recipes
as well as a big bowl of delicious chipotle black bean & seasonal veggie stew to enjoy!
Candida Cleanse Support Group
Saturday, May 5, 10AM – 12noon

Come join a group setting to learn the why and how of going on a candida cleanse. You'll hear stories and strategies about how to gently step away from sugar and high glycemic foods learn which foods are allowable during the cleanse and delicious recipes for these foods including sugar free desserts. You'll learn how to gently come off the cleanse, and which foods to incorporate to keep candida overgrowth at bay forever.
Together, we'll prepare and eat:
 

delicious & satisfying adzuki bean & seasonal veggie stew

 side of tangy cultured veggies full of probiotics
Whole Food Cooking for the OPTIMAL WOMAN
calcium uptake, hormone balance, & getting off sugar
Saturday, May 12, 10AM – 1PM

We'll discuss calcium-rich whole foods meals and how to maximize mineral uptake, hormone balance with whole foods diet & lifestyle, how to wean yourself off spiking blood sugar, the benefits of periodic colon cleansing, emotions as they relate to eating, and how to gently work toward the diet & lifestyle that's best for you.
Together we'll prepare and eat:
adzuki bean stew with seasonal veggies and wakame sea vegetable

tasty toasted sesame-wakame as a calcium supplement
You'll get 4 handout pages for reference:
the CookWell calcium protocol

guidelines for hormone balance

fantastic recipes for the optimal woman

colon cleansing guidelines
Proficiency with HERBS & SPICES   
Saturday, May 19, 10AM – 12noon

Come learn how to cook deliciously with ground spices and herbs of all kinds! Understand the basic flavor profiles for Indian, Thai, Italian, Japanese, Mediterranean, Mexican, and French cooking. Together we'll enjoy 3 different dishes made with the same veggies, but with different spices, for 3 completely different flavors! We'll also discuss several important whole foods diet & lifestyle topics such as seasonal foods and cooking for personal balance, the CookWell list of unrefined/whole food preparation staples for your kitchen, the best cooking oils for various temperatures, and the importance of & how to start drinking enough re-mineralized water daily.

You'll learn:

1) when to add ground spices and herbs to your cooking
2) how to use aromas to create the most flavorful blends
3) how to best store your herbs and spices
4) about the medicinal qualities of various herbs and spices

5) which herbs taste best with particular ground spices
Whole Food Cooking 101 for BUSY PEOPLE….AND BUSY MOMS!
Saturday, May 26, 10AM – 12noon



You'll learn how to prepare the foundation of a healing and revitalizing whole foods diet, from which you can change and add to according to your tastes. You'll learn to streamline your routine to make your journey into preparing your own whole foods meals easier and less expensive than you imagined possible.
We'll discuss several important whole food diet & lifestyle topics such as seasonal eating and cooking to balance your unique body type according to macrobiotics (ancient Asian tradition), and the basics of the blood type diet to further individualize your diet. We'll review the CookWell list of whole food preparation staple ingredients for your kitchen, the best cooking fats for various temperatures, the importance of re-mineralizing your drinking water, making delicious low glycemic desserts, and MUCH more!
You'll receive several informational handouts for your reference including snack ideas for kids, as well as a list of fantastic recipes.
We'll cook, and then of course, we'll get to feast together!
Together we'll prepare and eat:
ghee to use as a delicious, stable fat in your cooking

sprouted & simmered whole grain millet & amaranth

a dark leafy greens & seasonal veggies stir-steam

a beautiful pot of black beans
Delicious Cooking w/ SEA VEGGIES for Beauty & Longevity
Any Saturday after May 26, upon request
We'll discuss how to cook flavorfully with various types of sea vegetables (including those which bind and expel heavy metals and radioactive substances from the body!), how to maximize vitamin/mineral assimilation with whole foods combinations, and hormone balance guidelines with whole foods diet & lifestyle.
You'll get 5 handout pages for reference:
the benefits of 7 different sea vegetables with recipes for each

CookWell calcium protocol

guidelines for hormone balance

fantastic recipes

list of tasty herb/spice combinations for seasoning
Then together we'll prepare:
black beans and seasonal veggies with wakame & kombu sea vegetables
COUPONS
Do 4 CookWell classes & get the 5th class FREE!

OR, Organize a private group of 6 people & YOU get 50% OFF EACH SESSION!