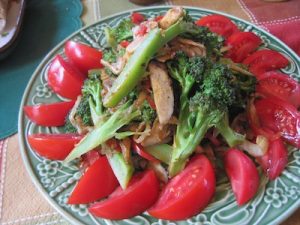 Well, I must now apologize for teaching people for 12 years that tomato, potato, eggplant, and peppers increase inflammation, and thusly pain, in the body. Anthony William the "Medical Medium" has beautifully debunked this limiting belief for me, after reading his book (which he says was inspired from spirit), called "Life-Changing Foods".
What I had read multiple times from various books, articles, and websites, is that these nightshade fruits/veggies contain an alkaloid called solanine, which exacerbates inflammation in the body. So, I'd been recommending that people with arthritis, chronic neck/back pain, MS, etc. eliminate these foods to see if their pain level decreased, as my pervious whole-food-healing sources said they likely would.
But what Anthony channels is that only the leaves and stems of the nightshade family plants contain solanine and are toxic. Once the fruits/veggies of these plants are ripe though, they don't contain any solanine at all. And, in fact, these ripe fruits/veggies are actually very helpful and nutritious for the body.
He cautions to avoid unripe nightshades such as green bell peppers and unripe green tomatoes, as they can be an irritant, except with varieties like green zebra tomatoes which are a green color when ripe.
He says, "In the rare case when someone eats a juicy, ripe tomato on its own, or a plain steamed potato, and experiences the onset of symptoms, it's practically guaranteed that she or he has symptoms when eating other types of healthy fruits and vegetables too. It's a sign that she or he is dealing with an elevated pathogenic load – the fruits and vegetables causing a detox reaction."
Chinese medicine teaches that nightshade fruits/veggies are very yin (as opposed to yang) in the energetic effect they impart. They cause energy to rise and expand in the body, leading to "spacey", ungrounded/unfocussed mental states, which can actually balance out the tension from stress or activities which take great concentration. Macrobiotics, the nutrition aspect of Chinese medicine, recommends cooking nightshade fruits/veggies with miso, seaweeds, or salt, and also parsley to offset their overly expansive effect.
My Solar Nutrition guru Hugo would say that nightshades have the most beneficial effect on the body when they're eaten vine ripe and in season. So, I try to avoid the store-bought pale tomatoes most of the year, as well as the green bell peppers. Once you have a super sweet, tangy, sun-warmed heirloom tomato from a summertime farmer's market, there's no going back!
Anthony William says that the real problem with nightshades in our modern foods, is the other foods they are often prepared with. For example, ketchup is laden with high fructose corn syrup. French fries are fried in refined vegetable oil and coated with refined salt.
He says to instead try the nightshades in healthy ways, such as; red bell pepper sticks with homemade hummus, baked potato with salsa and avocado, steamed eggplant drizzled with olive oil and lemon juice, and vine ripe tomato stuffed with tahini sauce.
From my personal experience in helping people heal and thrive with whole food cooking, I've seen that each person is unique, with unique biochemistry, and that everyone's needs change here and there throughout their lives. So, the need for quieting the mind and tuning in to your present needs, and how you feel after eating certain types of foods, will be an ongoing practice. I truly hope it is a graceful and joyful journey toward better and better vitality for you!