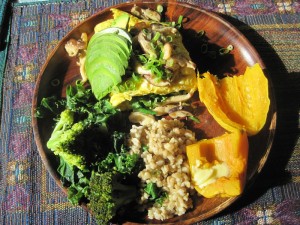 Many people believe that a ketogenic diet is the key to weight loss success, but keto by itself is not healthy long term for several reasons. This article by Dr. Joseph Mercola, based on his book, "Fat for Fuel," explains why and stresses cyclical ketosis.
Basically, cyclical ketosis means that once your metabolism is fat-adapted (burning fats as it's primary fuel) which can take anywhere from a few weeks to several months depending on the individual, that what's healthiest long term is cycling in and out of ketosis. This is wonderfully balanced and practical, as it means eating healthy complex carbohydrates 2-3x per week, such as winter squash, various types of potato, yam, parsnip, carrot, and whole grains like brown rice, millet, buckwheat, quinoa, etc.
Recent studies are showing that nutrient cycling (cycling between higher and lower amounts of fat, net carbs and protein) and cycling between high and low calorie intakes (fasting and feasting) are foundational for optimal biological functioning.
Short periods of regular water fasting are part of Dr. Mercola's cyclical protocol, but don't let the idea of fasting deter you, as you'll find that it isn't difficult to do once your body is fat-adapted, as you won't get hypoglycemic symptoms such as ravenous hunger, fatigue, shaky hands, edgy mood, and muscle weakness when fasting.
Dr. Mercola says, "…the ketogenic diet provides many of the same health benefits associated with intermittent fasting, and when done together, most people will experience significant improvements in their health — including not just weight loss, but other benefits such as: improved insulin sensitivity, which is key for preventing Type 2 diabetes and related diseases, increased muscle mass, reduced inflammation, reduced risk of cancer, and increased longevity.
Dr. Mercola highlights at least two significant reasons for the pulsed, cyclical keto approach:
• Insulin suppresses hepatic glucogenesis, i.e., the production of glucose by your liver. When insulin is chronically suppressed during long-term, ketosis (several months on end) your liver starts to compensate for the deficit by making more glucose. As a result, your blood sugar can begin to rise even though you're not eating any carbohydrates.
In this situation, eating carbohydrates will actually lower your blood sugar, as the carbs will activate insulin, which will then suppress your liver's production of glucose. Long-term chronic suppression of insulin is an unhealthy metabolic state that is easily avoidable by cycling in and out of keto.
• More importantly, many of the metabolic benefits associated with nutritional ketosis in general actually occur during the re-feeding phase. During the fasting phase, clearance of damaged cell and cell content occurs, but the actual rejuvenation process takes place during re-feeding. Cells and tissues are rebuilt and restored to a healthy state once your intake of net carbs increases.
Dr. Mercola's Full Article: Why Intermittent Fasting Is More Effective Combined With Ketogenic Diet and How to Implement Cyclical Ketosis
Also, here's Dr. John Douillard's recent article: 10 Reasons to NOT Eat a Ketogenic Diet Long Term